MNG "E" Series nitrogen generators use patented membrane technology to produce an uninterrrupted supply of gaseous nitrogen, on site. This compact system is ideally suited for low-flow applications that presently employ high-pressure gas cylinders or dewars of nitrogen. With Membrane Nitrogen Generators (MNG), the inconvenience of gas cylinders and liquid dewars is eliminated. Nitrogen is generated at your location, continuously and reliably, requiring only a supply of compressed air.
HOW MEMBRANE NITROGEN GENERATORS (MNG) WORK
CGT INC. membrane technology works by filtering oxygen from a stream of compressed, dry air via hundreds of thousands of hollow, polymeric fibers – each about the diameter of a human hair – to produce gaseous nitrogen. The flow and purity of the nitrogen are at your control, assuring the perfect match to your nitrogen requirements. And, the automated Membrane Nitrogen Generators (MNG) system virtually operates itself without requiring the attention of an operator.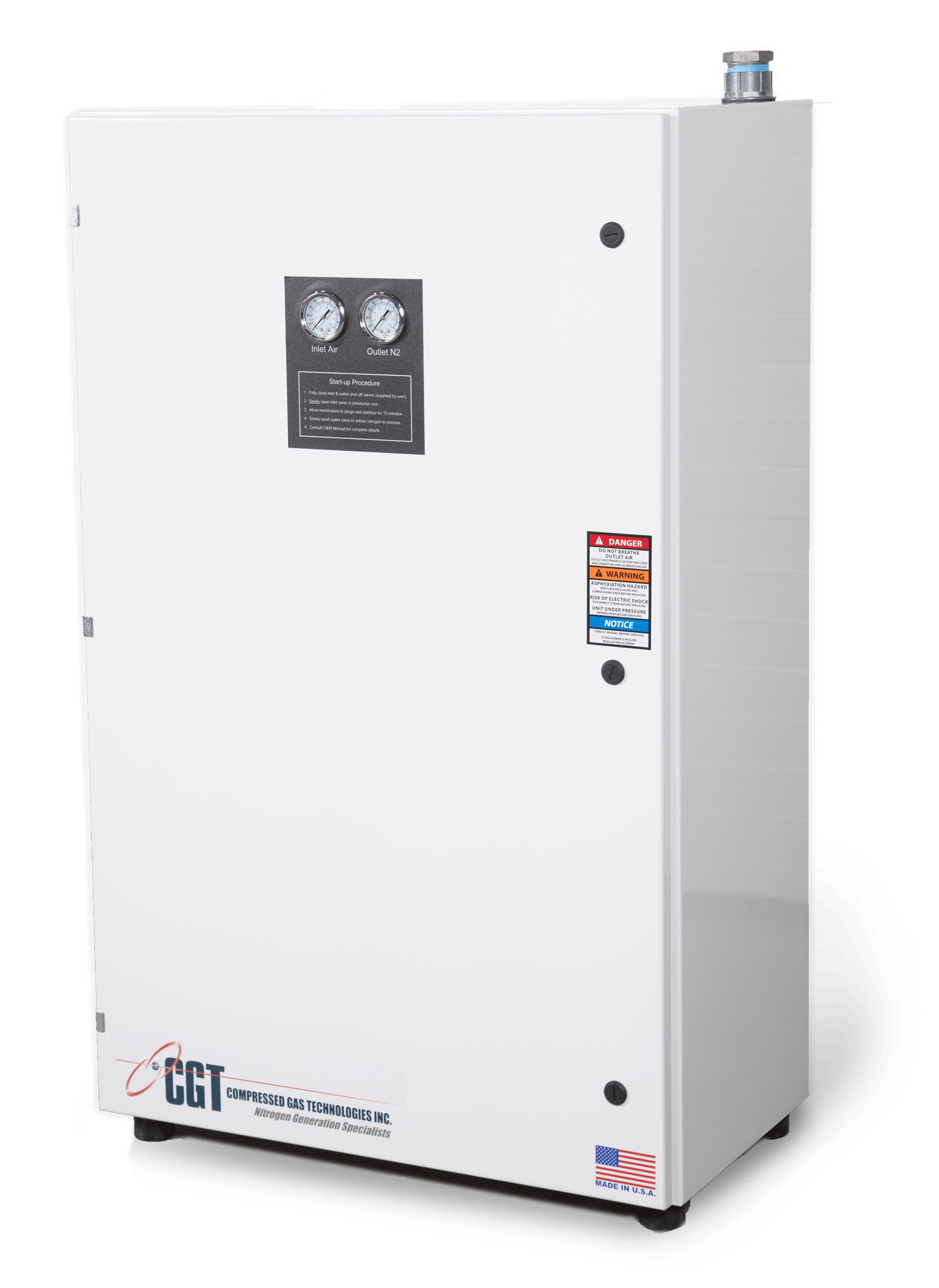 Modular/ Expandable: Systems are easily upgraded by simply adding additional membrane modules. Our units grow as your business grows!

Multistage Filtration: Each nitrogen generator incorporates the most advanced filtration systems available on the market today. Protecting the membrane from compressed air contamination, ensuring years of trouble-free operation.

Energy Efficient: CGT membranes are the most efficient on the market with the lowest air/ nitrogen ratio available. Control systems are available to shut the unit off when not in operation.

Plug and Play Operation: Connect a compressed airline to the unit and you are producing nitrogen within a few minutes.

Reliability: With no moving parts, CGT membrane nitrogen generators are extremely reliable.
Model
Nitrogen Purity
Approximate Dimensions & Weights
95%
96%
97%
98%
99%
99.5%
Flow Rate at the Outlet (scfh)
Height
Width
Depth
Weight
MNG-1010
45
37
31
24
17
13
51″
30″
18″
206 lbs
MNG-1110
74
63
52
41
29
21
51″
30″
18″
212 lbs
MNG-1210
134
113
92
73
51
38
51″
30″
18″
215 lbs
MNG-1220
268
226
184
146
102
76
51″
30″
18″
230 lbs
MNG-1230
402
339
276
219
152
114
51″
30″
18″
245 lbs
MNG-1240
536
452
368
292
204
152
51″
30″
18″
260 lbs
*Performance is based on 77˚F, 101.5 psi at the Membrane and is +/-5%. Data will vary with temperature and pressure.