HNS PSA nitrogen generators use patented technology to produce an uninterrupted supply of gaseous nitrogen, on site. This compact system of nitrogen generation is ideally suited for high flow applications that presently employ liquid nitrogen bulk delivery systems. With the HNS PSA nitrogen generators, the inconvenience of daily, weekly or monthly deliveries is eliminated. Nitrogen generation is accomplished at your location, continuously and reliably, requiring only a supply of compressed air.
HOW HNS PSA NITROGEN GENERATORS WORK
The HNS PSA Nitrogen Generators operate on the Pressure Swing Adsorption (PSA) principle to produce a continuous stream of nitrogen gas from compressed air. Two towers are filled with carbon molecular sieve (CMS). Pretreated compressed air enters the bottom of the on-linetower and follows up through the CMS. Oxygen and other trace gasses are preferentially adsorbed by the CMS, allowing nitrogen to pass through. After a pre-set time, the on-line tower automatically switches to regenerative mode, venting contaminants from the CMS. Carbon molecular sieve differs from ordinary activated carbons in that it has a much narrower range of pore openings. This allows small molecules such as oxygen to penetrate the pores and be separated from nitrogen molecules which are too large to enter the CMS. The larger molecules of nitrogen by-pass the CMS and emerge as the product gas.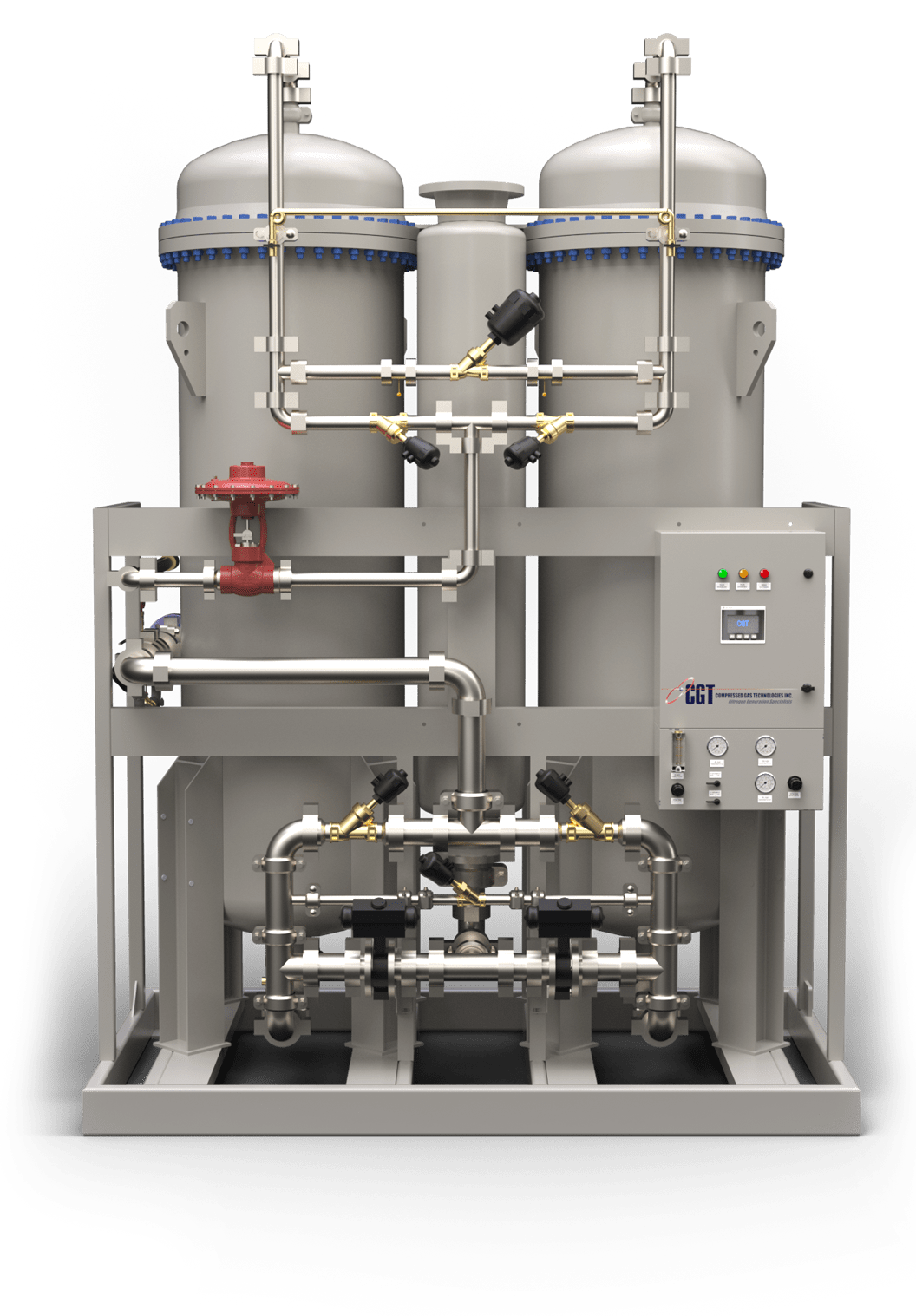 Multistage Filtration: Each nitrogen generator incorporates the most advanced filtration systems available on the market today. Protecting the unit from compressed air contamination, ensuring years of trouble-free operation.

Energy Efficient: CGT PSA nitrogen generators are the most efficient systems available on the market today with the lowest air/ nitrogen ratios. Control systems are available to optimize efficiency for variable flow applications.

Connectivity: Ready for Industry 4.0. Monitor your nitrogen generator from almost any device and get real time information that is pertinent to your facility.

Reliability: A true industrial nitrogen generator designed for 24 x 7 operation. High quality, long life components keep maintenance to a minimum and ensure trouble-free operation for many years.
Delivery Types
Skid mounted PSA nitrogen generator plant, complete with feed air compressor, air dryer,  and nitrogen buffer tank
Purity
Matching your specific requirements from 95% – 99.999%
Flow Capacity
3,500–150,000 scfh (purity dependent)
Pressure
Standard: 10–100 psig (high pressure options available)
Electrical
115/1/60 — nitrogen generator only
Temperature
Working environment from 32˚ to 95˚ F
Separation Technology
Pressure Swing Adsorption (PSA) using Carbon Molecular Sieves (CMS)
Codes
ASME VIII Div 1
CRN
UL & CUL
UL & CUL (NEMA 4)
Options
Containerized units
High pressure up to 4500 psig Cylinder filling stations
Low and high ambient conditions
Engineered packages to meet any specification
Communication protocols to meet any specifications
Energy savings mode at partial load